Drag Queens, Crossdressers & Trans
Miss Vicki Rene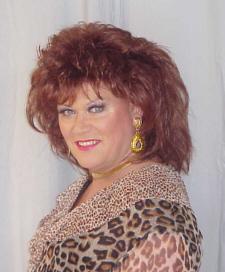 Fabulous drag icon Miss Vicki Rene passed away in July, 2011. Vicki Rene's site for drag queens, female impersonators, cross dressers, transsexuals and the transgender community is now part of The Transgender Guide network of sites. This site will remain in remembrance of our dear friend who touched so many of us in a very positive way.
We will include the photos from Vicki Rene's friends, including the popular "Prettiest of the Pretty." We will restore the e-mail and website addresses from the photo submissions also. That will be completed in phase 2 of our rebuild of the site content. This is a huge project that is going to take a few months to complete, so please be patient with us as we restore the old site content. Please feel free to leave a comment for Vicki Rene and you may also submit any photos you might have of her.
Tribute to Vicki Rene
Note from Lori of TGGuide.com: Vicki Rene was a friend and a mentor for me as she was to many others in the transgender community. We lost Vicki Rene in 2011 but her vision lives on and we welcome her online family into the TGGuide network.
Miss Vicki Rene was a caring and compassionate person. Here is a quote from her that I especially love. This timeless advice gives a glimpse into the true nature of Vicki Rene.
Words to Live By (by Vicki Rene)
"I have been asked over and over again, the same question, in both emails and in person: "How do I become a better woman, a passable woman?" I always answer it the same way!
It is great to be passable but it is even greater to be accepted! You can only be accepted by being a good person and realize all around you are people that may like, may hate you and some may even just not understand you. Don't run away from any of these people, give them your best smile and look them in the eye and say hello. If you run, you will be running all your life." ~ Vicki Rene
Navigating the site: There are many pages on this site. Please notice the site navigation buttons at the top of the page. When you mouse over the buttons you will find nested pages with even more content. You may also go to the VickiRene.net sitemap for a complete index of all pages and content on VickiRene.net.
What's Happening at VickiRene.net
What's Happening: We will update this section to keep you informed of site progress. Presently, we are busy working behind the scenes to restore as much of the site content as possible. Fortunately, we have most of the thousands of photos and pages from the original site. We are restoring all of the "Prettiest of the Pretty" photos, showgirls and some of the drag pageant winners. Please come on in and take a look around, but check back soon because there will be more site photos and content added daily.
---
NEW!

Trans Chat and Social Network


TRANS COMMUNITY & SUPPORT: We have thousands of transgender community members and friends. Trans chat is a great way to explore your place in the transgender community. Come join us in a safe, welcoming environment and meet new friends! We have chat rooms designed specifically for the transgender community and trans support rooms.

TRANS ADMIRERS: If you're an admirer or want to engage in naughty chat we have you covered too. Just sign up and look in the Trans chat rooms list for adult-themed rooms just for you!

We've created a Trans chat room and social network platform with something for everyone. We don't have a lot of chat rules but we need a few to be sure the chat flows smoothly. Please read through the chat rules and make sure you follow them. Join the conversations and get to know everyone. There are some great transgender folks and community friends who will be happy to chat with you. Click here to sign in or join transgender chat – it's always free!
Trans Chat – You Must Agree To The Rules Stated Below
Trans Chat Rules: The trans chat room is frequently monitored by moderators who may or may not identify themselves as staff members. You must abide by their instructions at all times. We try not to be overbearing but some simple rules are needed to ensure a sense of safety and a free flow of live chat.
1. You must be at least 18 years of age per the site rules.
2. Name calling, harassment, racism, bigotry, and general disrespect towards other chatters is not permitted.
3. Do not publicly or privately post any personally identifying information or private conversations.
4. Conversations involving politics and religion are allowed only in the Politics and Religion & Spirituality rooms, respectively.
5. Arguing with chat moderators is not permitted.
6. Please block members who cause problems or with whom you have personal issues.
7. Do not post Craigslist style ads in the lobbies. (eg. 24/looking for phone or cam fun. etc.) Use topic rooms for these kinds of chat requests.
8. Do not spam or flood the room.
9. Cybering in group/public chat is only allowed in the adult themed rooms.
Please leave a Vicki Rene memorial message or comment below
---
Meet More Local Trans Friends!
Take the time to spoil yourself. You deserve a break from the everyday grind just as much as anyone else. Find some new friends, chat with new people and maybe find a love interest. We all need some TLC.